The reported number of those killed and injured in the attack on Kramatorsk train station is rapidly rising. Reuters are quoting Ukraine's state railway company now saying more than 30 people were killed and over 100 were wounded.
09:24
'Dozens' of civilians feared killed or wounded in Russian missile strike on Kramatorsk train station – Donetsk governor
Reuters is carrying a little more detail on the reported strike on Kramatorsk railway station in east Ukraine. They cite Ukraine's Donetsk governor, Pavlo Kyrylenko, who says that thousands of civilians were at the station trying to evacuate to safer areas of Ukraine. Quoting police and rescue workers, he said dozens were feared killed or wounded in the rocket strike.
While people in the east of Ukraine are still under Russian bombardment and attempting to flee, the situation is now different in Kyiv, with Russian forces having retreated from the areas around Ukraine's capital. Consequently people are now queuing at Przemysl station in south-eastern Poland to return to Kyiv. Here are a couple of pictures of the scenes last night.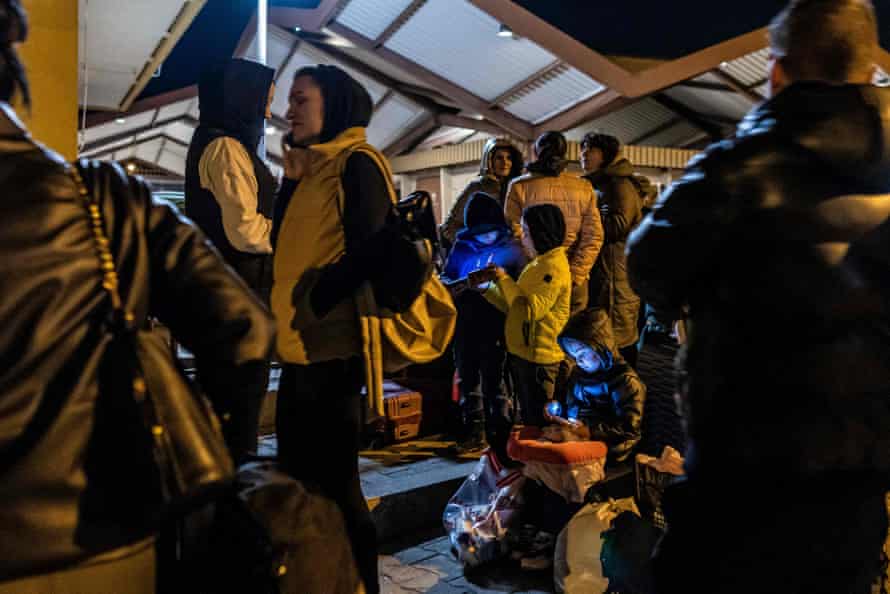 09:06
Two Russian rockets have struck railway station in eastern Ukraine, causing casualties – reports
Two Russian rockets have struck a railway station in Kramatorsk in eastern Ukraine, causing casualties, Ukraine's state railway company has said. Reuters reports the station is used to evacuate civilians from areas under bombardment from Russian forces.
Three trains carrying evacuees were blocked in the same region of Ukraine on Thursday after an air strike on the line, according to the head of Ukrainian Railways.
The report of the attack has not been independently verified. This is a photograph of scenes at the station yesterday, with people queuing for trains in large numbers. Kramatorsk is in Donetsk Oblast.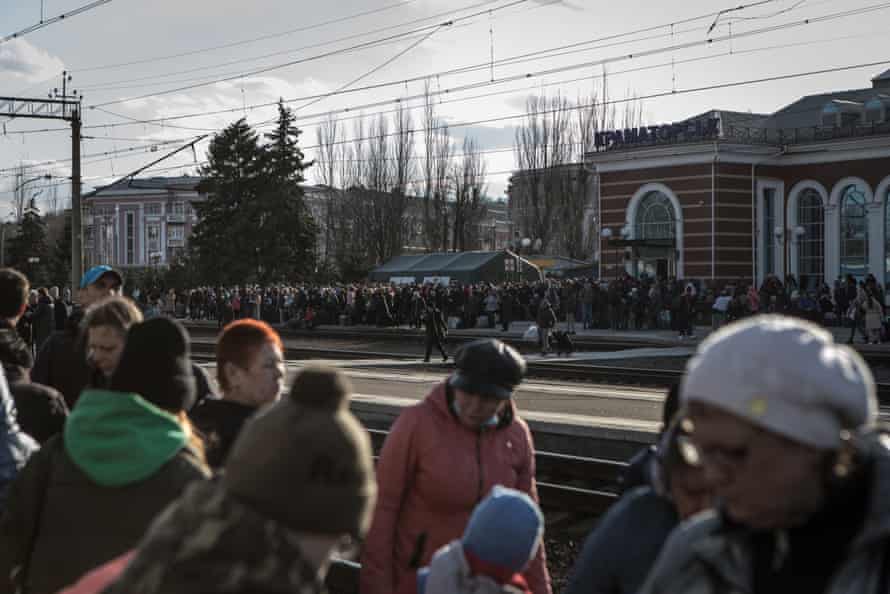 Ukraine's ambassador to the UK, Vadym Prystaiko, was asked on British TV about reports of potential war crimes being committed by Ukrainian forces, referring specifically to a video that appears to show Ukrainian soldiers shooting Russian prisoner of war. He was asked on Sky News what level of committment Ukraine had to investigating itself. He said:

We're making this very clear to all our soldiers that there are some limits. Τhe military are fighting. There are some limits. And each and every incident will be investigated.
However, he went on to attempt to draw a distinction between the allegations levelled at Russian forces and those made against Ukraine's military. He said:
On a separate note, we're talking about civilians, and Russians are killing, raping, just our civilian people. There are differences. All of us hate the war as it is, with people killing each other, but there is a difference, when you kill and shoot at military when you're fighting, and when you kill innocent civilians.
Also during his television interview in the UK, Vadym Prystaiko, Ukraine's ambassador to the UK, responded to Kremlin spokesperson Dmitry Peskov's denials that any war crimes have been committed. He described it as "nothing unexpected."
He said "That's the first appearance to the wider TV audience on the world stage, but the message is the same. 'We have to defend ourselves by killing and coming to Ukraine'. At least he recognised that they're losing soldiers left and right."
Prystaiko suggested that if Russia was so sure that alleged atrocities in Bucha and elsewhere were faked, there was a simple option:
They can join the international investigation effort. They can come with anybody else and check it. If he has stomach to face these people. He can come to Bucha himself and check it and see it.
08:47
Ukraine's ambassador to the UK calls for Nato ships in the Black Sea
Vadym Prystaiko, Ukraine's ambassador to the UK, has appeared on Sky News in the UK, and called for Nato and other international forces to play a more active role in the Black Sea, saying:
We have to unlock the Black Sea. Russians block the sea for us. That's our own sea. We need this for humanitarian assistance to come in Ukraine.

And we actually have it so to allow Ukrainian exports – mostly grains – to go out. We are responsible for a significant chunk of food security around the globe. Many nations in Africa are fed because of Ukrainian grain. And this grain is stuck in our silos, it can't be exported, it can't be sent anywhere.
He suggested it would not be such a big shift of current policy, saying:
Nato ships in the Black Sea. They're welcome in our sea. And there are members of Nato. Three of the main members of Nato [are] within the basin: Turkey, Romania and Bulgaria. So they're already there. It's not a big deal. We need to have somebody to reinforce the effort, yes, to come, and be invited to Odesa, all the way in.
Yesterday, Turkey called a videoconference for countries bordering the Black Sea. Turkey said the defence ministers of Bulgaria, Georgia, Poland, Romania and Ukraine joined the call, which discussed mines floating in the sea and regional security. Turkish military diving teams have so far detonated three separate floating naval mines in the Black Sea, while Romania has also defused a stray mine in its waters since the war on Ukraine started.
Russia says it has destroyed a training centre for foreign mercenaries in Ukraine, north of Odesa. The claim has been reported by Russian news agency Tass via Reuters. It has not been independently verified.
In the UK, opposition party Labour's shadow attorney general, Emily Thornberry, has been appearing on Sky News. In response to Kremlin spokesperson Dmitry Peskov's denials that any war crimes have been committed, she said "I think they're very good at fake news."
She said:
We just have to carry on telling the truth. But more importantly, gathering the information so that when the time comes, we can take out prosecutions against the relevant people. We must hold them to account for the war crimes that they've obviously committed. And I mean, the truth is, the evidence that we have at the moment is just the tip of the iceberg. My fear, you know, because we're only seeing it from the towns and villages where the Russians have withdrawn. There are many other towns and villages where the Russians are still in occupation.
In terms of prosecuting those responsible for some of the images that we have seen emerging from Ukraine, despite Russia's withdrawal in 2016 from the international criminal court statute, Thornberry said "where there's a will", adding:
Remember, people couldn't believe that we would ever be able to hold the murderers in Yugoslavia to account, and yet we did in the end, and we got most of the major players, stood trial rightly, and now behind bars.
08:19
Ukraine PM: grain harvest likely to be 20% less than last year
The Ukrainian prime minister, Denys Shmyhal, said this year's grain harvest was likely to be 20% less than last year because of a reduced sowing area after Russia's invasion. He said there was a shortage of fuel for farmers but Ukraine knew how to keep them supplied. Reuters reports he also said Ukraine had large stocks of grain, cereals and vegetable oil, and could feed its population.
Mykhailo Podolyak, an adviser to Ukraine's president, Volodymyr Zelenskiy, has been speaking and Reuters is carrying the following key lines:
He says that Russian forces "have no advantage" on warfronts.
He said negotiations with

Russia

continue online constantly but the mood changed after the events in Bucha.
He suggested that any temporary truce with Russia would just be a war postponed for the future, and Ukraine does not need this.
Podolyak says Ukraine is working on the possibility of evacuating civilians from Mariupol by sea.
Fabrice Pothier, a former Nato director of policy planning, has been interviewed on Sky News in the UK. He said that Nato needed to do more, saying:
It's possible and it's necessary because the choice here is whether we are entering a very long war of attrition, with entire cities in the Donbas and eastern Ukraine being basically wiped out and civilians obviously killed by the thousands, or whether we are trying to help Zelenskiy finish this war on terms that are actually acceptable to him and the Ukrainian population.
Asked about the reported large losses of Russian troops, Pothier said from Brussels that in some ways Russia admitting this was unavoidable, because "the dead Russian soldiers have to come back home."
However, he made the point that there was also some propaganda value for the Kremlin in losses. He told viewers:
There's also this kind of Putin narrative of idolising violence, and the sacrifice of violence, and that the 'special operation' requires special sacrifices. Clearly he's saying that to his population on the economic sanctions.

And now they seem to be developing the narrative that yes, there are many soldiers die, but it's worth it. So never underestimate the Kremlin capacity to turn something terrible into actually a kind of positive narrative to sustain the propaganda.
Lithuania's ambassador to Ukraine has returned to Kyiv after Russian forces withdrew from the Ukrainian capital, becoming one of the few diplomats to return to the city.
"I have just walked through the embassy door," ambassador Valdemaras Sarapinas told Agence France-Presse on Thursday. "Political and moral support is very important for the Ukrainians," he added.
Like many others, the diplomat left Kyiv as a result of Russia's invasion of Ukraine and had worked since from the western city of Lviv.
Sarapinas's return came a day after Turkey announced it had moved its embassy in Ukraine back to Kyiv after having temporarily relocated it to Chernivtsi near the Romanian border.
Poland and the Holy See were among the few who had maintained their representation in the city.
Sarapinas said the city was "certainly" different following the Russian troop withdrawal from areas around the capital. "Two weeks ago, it was a dead city … Now there is life," he said.
There is a quick snap from Reuters that the governor of Ukraine's Luhansk region says that Russia is accumulating forces, but they have not broken through Ukrainian defences in the east of the country.
Conservative MP Tobias Ellwood, who is chair of the commons defence select committee, has been on Sky News in the UK. He responded to Kremlin spokesperson Dmitry Peskov's denials that any war crimes have been committed, saying:
It was important for us to hear the diet of news that the Russian people are experiencing. We must brace ourselves, I think, for more horrors to be revealed. More war crimes to be exposed as Russian troops withdraw. But the spokesperson Dmitry Peskov was very, very clear, this is far from over. And there is another dark chapter soon to follow.
He criticised Nato for being too slow to support Ukraine with equipment and for having "simply daft arguments about whether weapons systems are indeed defensive or offensive".
He said that the alliance might have given them enough weapons not to lose, but "not enough to ensure that they win".
He suggested that the west had been "too easily spooked by the Kremlin rhetoric" and deterred from acting more decisively, saying "we need to have better confidence and understanding of the escalatory ladder, as we did during the Cold War."
He added:
What we should take away from that Peskov interview is the fact that Putin is very secure in his job. He's not scared of any war crimes. He's not scared of breaching the Geneva Conventions. In fact, he's taken advantage of the West's timidity. We've given him space to conduct these horrors and that needs to stop.
He urged Nato to take stronger action so that Ukraine can defend Odesa, observing that:
Odesa is a critical port in the south. If that falls, Ukraine will become landlocked. Vital grain exports that we all depend on will not be able to get out. But more importantly, Putin will be able to declare a win.
Ukraine has announced that today it is aiming to open ten humanitarian corridors for civilian evacuations. Reuters reports that once again, civilians hoping to escape from Mariupol will have to use their own vehicles – there will be no convoy of buses.
Ukraine is investigating 5,149 alleged cases of war crimes committed by Russian forces, the prosecutor's office has revealed.
The President of the European Commission and EU representative Josep Borrell appear to be on their way to Kyiv this morning. Ursula von der Leyen shared a photo of herself stepping off a Ukrainian train alongside the caption "looking forward to Kyiv".
Ukrainian President Volodymyr Zelenskiy said that the situation in the town of Borodyanka was "much worse" than in nearby Bucha, where Russian forces' suspected killings of civilians received global condemnation. Ukraine's prosecutor general, Iryna Venediktova, added: "Borodyanka is the worst in terms of destruction and in terms of the uncertainty about [the number of] victims."
The Kremlin has admitted suffering "significant losses" of troops since

Russia

launched its invasion of Ukraine, in a rare admission of how badly the war has gone. In an interview with Sky News, Kremlin spokesperson Dmitry Peskov asked whether the war had amounted to a humiliation for Russia given the number of troops lost. He replied: "We have significant losses of troops. And it's a huge tragedy for us."
Russian forces have now fully withdrawn from Ukraine's north to Belarus and

Russia

, the UK's ministry of defence has said. "At least some of these forces will be transferred to East Ukraine to fight in the Donbas," the

report

added.
The Sumy region in north-eastern

Ukraine

is now free of Russian forces, according to the city's mayor. Dmytro Zhyvytsky said the region is free of Russian forces but explosions may still be heard as rescue service workers dispose of ammunition left by the Russian military in an

update

posted to his official Telegram channel.
The European Union approved an embargo on Russian coal imports and the closing of the bloc's ports to Russian vessels over the

Ukraine

war. The measure will take effect from mid-August.
In addition to the sanctions, the EU also backed a proposal to boost its funding of arms supplies to Ukraine by 500 million euros, taking it to a total of 1.5 billion euros.
The World Health Organization (WHO) said it had confirmed more than 100 attacks on health services in

Ukraine

, as it called for humanitarian access to the besieged city of Mariupol.
The United Nations general assembly voted to suspend Russia from the UN human rights council over reports of "gross and systematic violations and abuses of human rights" by invading Russian troops in Ukraine.

Ninety-three countries voted in favour of the US-led motion

, while 24 countries voted against and 58 countries abstained.
The prospect of Finland and Sweden joining Nato was part of the discussion between foreign ministers from the military alliance in Brussels this week, a senior US State Department official said.
Russia has imposed sanctions on Australian and New Zealand citizens, including their prime ministers, the Russian foreign ministry announced.




Source link